SGA is a member of the International Golf Federation, Asia Pacific Golf Confederation, and ASEAN Golf Federation. As the governing body of golf, it is also an Affiliate Member of the Singapore Sports Council and the Singapore National Olympic Council.
249 Sembawang Road, Singapore 758352
---
Champions Public Golf Course is a 9-hole public course located in the Bukit Timah area close to Holland Village, about ten minutes' drive from central Singapore. The practice facilities include a 60-bay covered range with a large grass landing area surrounded by lush jungle.

Holes: 9 Par: 34 Length: About 2000 m Slope: 112
60 Fairways Drive (off Eng Neo Avenue), Singapore 286966
---
Changi Golf Club has a long history, with its origins stretching back to RAF Changi military staff, who first built a basic course on the site in the 1940s. In 1971, the club was privatised, and the course has been upgraded continually since then. The eighth fairway was once listed in the Guinness Book of Records as the narrowest fairway in the world!

Holes: 9 Par: 36 Length: 4881 m Slope: 70,3 Rating: 132
20 Netheravon Rd, Singapore 508505
---

The clubhouse is an upmarket indoor golf club in the heart of Singapore's CBD, which provides an oasis for like-minded people to meet, relax and have fun. We provide exceptional service, high-quality products, and a warm ambiance. Using state of the art Foresight GC Hawk Simulator technology trusted by Ricky Fowler and other top professionals, we're here to enable more people to take up the game and to help them improve faster than ever before.
---
The club with a heritage like no other, With over a century of rich golfing heritage, Keppel Club will provide you with a unique golfing experience steeped in history. As one of the few courses located near the hustle and bustle of the city, a challenging and enjoyable time is just a stone's throw away.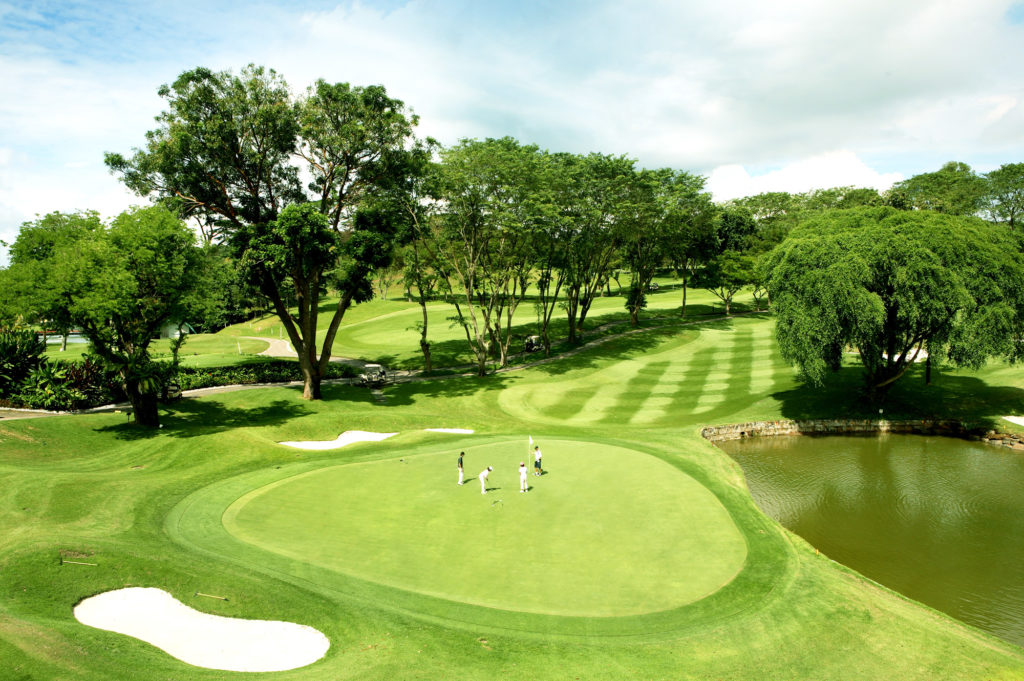 Holes: 18 Par: 72 Length: 5917 m Slope: 72,5
---
Laguna National Golf Country Club World Classic Course is a masterpiece by Andy Dye, amalgamating "the best holes in one course", rated the most difficult course in Singapore, and possibly Asia, from the Championship Black Tees at 76.4 and slope of 162.

Holes: 18 Par: 72 Length: 7183 yd Slope: 162
11 Laguna Golf Green, Singapore 488047
---
Laguna National Golf Country Club Master Course is a part of Laguna National Golf Country Club, a prominent golf club in the local and regional golf scene since its inauguration in 1993. Laguna National Golf Country Club is one of Singapore's premier golf and country clubs offering two eighteen-hole championship courses – Masters and World Classic. It is Singapore's only golf club to have its land lease and playing privileges secured until 2040 at present.

Holes: 18 Par: 72 Length: Over 7100 yd Slope: 144
11 Laguna Golf Green, Singapore 488047
---
Marina Bay Golf Course is an 18-hole golf course which is open to the public. Located strategically in the heart of Singapore, the course offers golfers great accessibility and a picturesque view of the city skyline, be it day or night.
The design of the par 72 championship course attempts to connect to the history of golf – traditional links of Scotland and the beginning of golf – with its few water hazards and in particular, its 91 sand bunkers. The bunkers not only create a dramatic landscape, they also provide hours of challenges and excitement to golfers.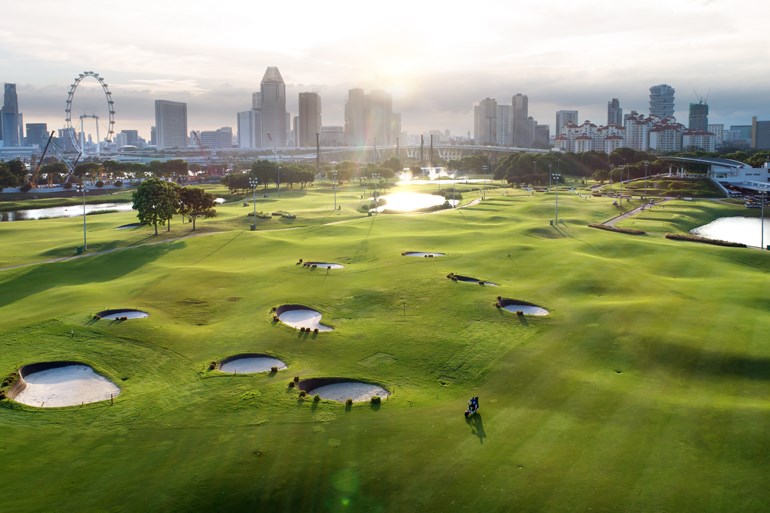 Holes: 18 Par: 72 Length: 6493 m Slope: 73,7
---
Cloistered from the hustle and bustle of city life, Mandai Executive Golf Course is located at the stunning Upper Seletar Reservoir. Currently under by the Pro Bros Golf Management Pte Ltd, Mandai Executive Golf Course features a two-storey driving range, chip and putt area as well as a 9-hole golf course.

Holes: 9 Par: 36 Length: 1635 yd Slope: N/A
Upper Seletar Reservoir Mandai Road Track 7 Singapore 779384
---
National Service Resort Country Club Changi Course contains two-nine courses, namely the 1st Tee and the 10th Tee. The 1st Tee offers undulating landscapes and a multitude of water hazards to provide a good challenge to golfers' of any skill level. The 10th tee, formerly known as the Navy Course is located along the seafront and it characterized by its beautiful landscape, while offering a meandering layout to challenge all golfers'.

Holes: 18 Par: 72 Length: 6235 m Slope: 72,6
10 Changi Coast Walk, Singapore 499739
---
National Service Resort Country Club Kranji Course contains 2 two-nine lush green courses at Kranji, both are designed with the emphasis of conservation and the recreating the beauty of natural habitats. A unique feature of the golf course is that it provides public access via a nature trail to designated bird-watching sites. This 18-Hole Gary Player course spans 6400m. Large stretches of swampland in National Service Resort Country Club Kranji Course natural state are preserved and left untouched, with new ponds, marshes and water bodies added as an integral part of the course.

Holes: 18 Par: 72 Length: 6447 m Slope: 73,1
No. 50 Neo Tiew Lane 3, Singapore 718828
---
At Orchid Country Club, find true relaxation and respite in the embrace of nature's lush green and sparkling reservoir waters. The sprawling 100-hectare plays host to a duo of clubhouses, a top rate golf course, as well as a wonderland of social, recreational and entertainment facilities.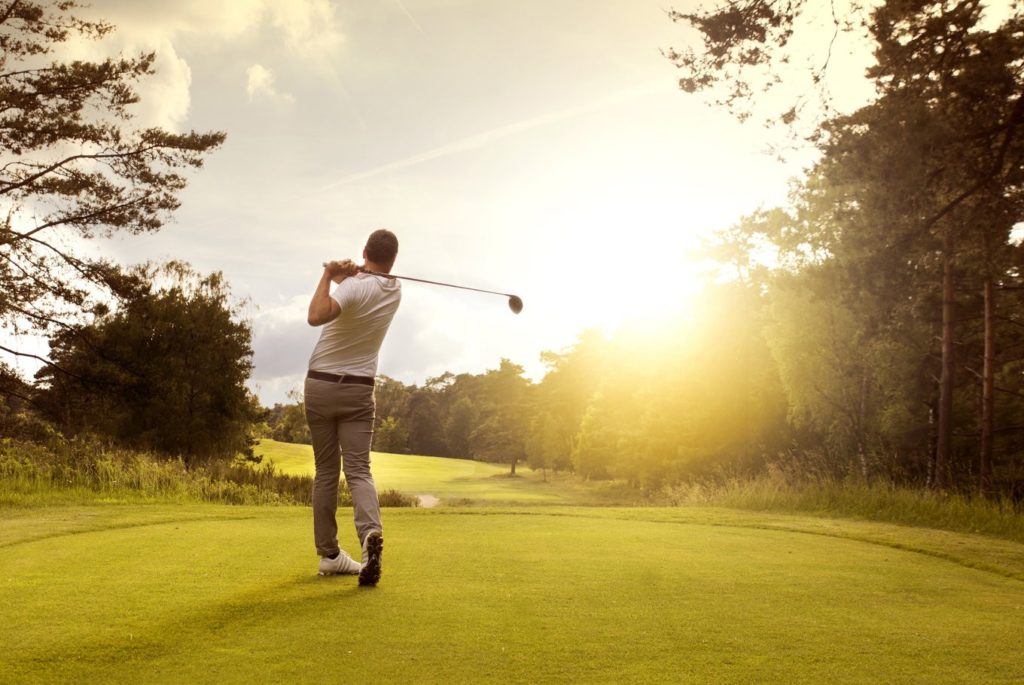 Holes: 27 Par: 108 Length: Over 7300 yd Slope: N/A
---
Sentosa Golf Club New Tanjong Course is uniquely set against the Singapore Straits with views of metropolitan Singapore all round. Inspired by iconic sand belt golfing experiences, Sentosa Golf Club New Tanjong Course asserts a unique personality with large bunkers rarely seen in Asia, offering players the challenge of playing on a course inspired by the style of renowned golf course architect Alister MacKenzie.

Holes: 18 Par: 72 Length: 6018 yd Slope: 136
Sentosa Golf Club, 27 Bukit Manis Road, Singapore 099892
---
Sentosa Golf Club Separong Course is well-known as the battlefield for the prestigious Singapore Open (2005 – 2012). Opened in 1982, the course is the creation of world-renowned golf course designer Ronald Fream. A challenging par-72, it is one of the top five championship courses in Asia and home of the prestigious Barclays Singapore Open.

Holes: 18 Par: 72 Length: 6675 yd Slope: 75,2
27 Bukit Manis Road, Singapore 099892
---
This club was established in 1967 as a 9-hole course, with the opening officiated by Prime Minister Lee Kuan Yew. It became an 18-hole course in 1977, before being fully refurbed – clubhouse and course alike – between 2010 and 2013. There's a pro shop, a driving range and full facilities and F&B options for members.

Holes: 16 Par: 71 Length: 6337 yd Slope: 138
249 Sembawang Rd, Singapore 758352
---
Singapore Island Country Club Sime Course offers a scenic and serene view of the MacRitchie Reservoir. It has prompted many descriptions such as "reminiscent of the Thames (UK) in the summer" and was also once described as being like an English park, "thoughtfully planted with many kinds of selected trees".

Holes: 18 Par: 72 Length: 5851 m Slope: 70,9
240 Sime Road, Singapore 288303
---
Singapore Island Country Club New Course is the perfect place for experiencing the rain forest and challenging yourself. Considered the most challenging course at SICC, this course boasts of natural terrain, wildlife and rain forest as it is carved out of a natural virgin jungle. Since the course opened in 1965, Singapore Island Country Club New Course has undergone further improvements so that both nines return to the Island location Clubhouse.

Holes: 18 Par: 72 Length: 6319 m Slope: 74,6
180 Island Club Road, Singapore 578774
---
The Singapore Island Country Club story – also the dawn of golf in Singapore – began on 17 June 1891. A special match was arranged to celebrate the birth of The Golf Club, graced by the presence of Governor Sir Cecil Clementi-Smith and his wife. Sir John Tankerville Goldney, the man responsible for forming the club, had the privilege of driving off the first ball in the opening game. The Golf Club had the unique opportunity of witnessing the first tee off, and from here on, golf in Singapore had finally taken off.

Holes: 18 Par: 72 Length: 5945 m Slope: 72,5
180 Island Club Road, Singapore 578774
---
Singapore Island Country Club Millennium Course is one of five high-quality courses of Singapore Island Country Club. The course was designed by five-time British Open champion and one-time PGA Tour winner, Australia's Peter Thomson. Let's come and test your golfing skills and learn a tip or two on this executive course (9 holes) located at the Island location.

Holes: 9 Par: 27 Length: 2476 m Slope: N/A
180 Island Club Road, Singapore 578774
---
Singapore Island Country Club Bukit Course was praised by golfer Nick Faldo as a "beautiful course". The course borders the sprawling MacRitchie Reservoir, boasting more than 3,000 fully-grown trees of at least 10 varieties. The SICC's 18-hole championship course has hosted many international events including the 1969 World Cup, the 1993 Johnnie Walker Classic, Rolex Masters (1973 to 1998), at least 28 Singapore Opens (1962 to 1995) and the Inaugural Caltex Singapore Masters in 2001. With such pedigree, it is no wonder that it is the most popular golf course in SICC.

Holes: 18 Par: 72 Length: 6077 yd Slope: 73,8
180 Island Club Road, Singapore 578774
---
The 18-hole gem in Seletar Country Club is a result of the great vision of its founding members. Emphasis on making the most of the natural undulating terrain gave birth to a course filled with tricks, yet breathtaking in its beauty. Blessed with a panoramic vista of the Lower Seletar Reservoir, a rustic country theme enhances the backdrop of clear glistening waters. Bird sanctuaries fringe the course and play home to various species of local and migratory birds, while the addition of waterscapes enhance the overall splendour of the course. The natural undulating terrain gives the Seletar Golf Course a high challenge rating, demanding great ball striking and a sound strategy. It brings excitement to those who try to make par on the course, yet leaves room for others to delight in its beauty. It is little wonder that the immaculately groomed Seletar course ranks amongst the best in Singapore and is a popular choice for private golf tournaments.

Holes: 18 Par: 72 Length: 6960 yd Slope: 144
101 Seletar Club Road, 798273 Singapore
---
Tanah Merah Country Club Tampines Course, just across the East Coast Parkway, is considered to be Singapore's best "second" course. It has its own fully equipped club house, and offers a good full length course. Water comes into play at Tampines several times in the round but does not dominate play.

Holes: 18 Par: 72 Length: 5999 yd Slope: 71,4
25 Xilin Avenue Singapore
---
Tanah Merah Country Club Garden Course, just off the East Coast Parkway and close to Changi airport, is home to one of the region's finest championship golf courses. The Garden Course has hosted many major tournaments including the Johnny Walker and the HSBC Champions (LPGA) and seen many of the world's best players competing. It is a challenging layout to golfers of all levels, but is always enjoyable to play because it encourages shot making.

Holes: 18 Par: 72 Length: 7001 yd Slope: N/A
25 Changi Coast Road, Singapore 499803
---
Warren Golf & Country Club (formerly known as Warren Golf Club) was founded by the late Brigadier Derek Warren of the British 18th Signal Regiment. The Club started with a 4-hole golf course and quickly expanded to feature a 9-hole golf course together with a driving range when it officially opened at Folkestone Road in 1962. Over the years, the Club progressed and it now has an 18-hole championship golf course as well as an extensive range of social and recreational facilities. The Club has a present membership strength of around 4,000, which consists of both local as well as foreign members.

Holes: 18 Par: 71 Length: 6271 yd Slope: N/A
81 Choa Chu Kang Way, Singapore 688263
---
Golf Academies
Champions Golf Academy (CGA) aims are to bring to Singapore Golfers the widest possible learning experience in all areas of the game of golf. CGA's philosophy is also 'Learning Golf While Having Fun'.
Bukit Timah Champions Golf Course, 60 Fairways Drive, Singapore 286966
---
Our junior development program is one of the best golf lessons in Singapore. The golf program is categorized into 5 levels; "Freshman," "Sophomore," "Junior," "Senior," and "TGL Elites." The aim is to provide a consistently high level of coaching to avoid any student being "left behind" as well as creating a sense of autonomy and self-sufficiency through great coaching is what gives our students the best tools and preparation for their college careers and beyond.
10 Changi Coast Walk, Singapore 499739
---
Golf Performance 360 aims to provide the best possible lesson experience for golfers of all abilities, ages, and walks of life. Our team of qualified PGA professionals is equipped with the experience and skills to bring golf to all in the community.
1 Orchid Club Rd, Singapore 769162
---
LGA Singapore delivers the same high coaching standards that have made the brand famous around the world. With a dedicated, highly skilled team, programs are available for both members and the public to hone their golf skills and truly benefit from world-class coaching.
610A Upper East Coast Road, Singapore 465404
---
Muru Golf Academy offers one of the best training facilities, with 42 bays driving range, large putting and chipping green and sand bunker. Our range uses top quality practice balls from Titleist, which gives you the feel and distance of the usual golf balls that golfers used.
---
SingaGolf's aim is to provide structured golf programs to individuals, corporate clients, and Schools and to reach out to potential students to promote golf as a sport. As the game becomes a more popular sport amongst friends and families, the influence and awareness of the young is fast growing. Hence, we progress to diversify from our core business in coaching to that of providing handicap maintenance services and create greater family bonding and social interaction activities amongst the interest group of 'SingaGolf' friends.
Sembawang Country Club, 249 Sembawang Road, Singapore 758352
---
Star Golf Academy is located at Marina Bay Golf Course (MBGC), Singapore's very first 18-hole public golf course, located at the South of the Central Business District (Tanjung Rhu). Golf lessons are professionally conducted by our dedicated team of highly qualified and experienced golf professionals from the Professional Golfers' Association (PGA).
80 Rhu Cross, #01-05 Singapore 437437
---
Transview Golf Academy is a high-performance academy that uses the latest teaching technique and Providing you possibly one of the best facilities for training and playing environments.
101 Seletar Club Road, Golf Driving Range Level 1, Singapore 798273
---
With their in-depth knowledge and vast experience in the golf industry, Poh Bros. Golf Management has become one of Singapore's most experienced and respected professional golf management team managing Toa Payoh Golf Driving Range.
Mandai Executive Golf Course, Mandai Road Track 7, Upper Seletar Reservoir, Singapore 779384
---
In an effort to develop young talents into "competition ready" golfers, either to represent TMCC or as a national player for Singapore, TMCC has introduced the TMCC Junior Golf Programme, which is open to children of members aged 8 to 16 years.
Tanah Merah Country Club Singapore, Singapore 499803
---
Developed by a team of PGA professionals and competitive golfers, My First Par Preschool Golf Academy delivers the best golf education program to children age 2-7.
---
Gary has been in the business of Golf since 2015 and has been helping individuals of all ages pick up the sport of Golf.
Upper Seletar Reservoir, Mandai Rd Track 7, 779384
---
At Golf Line School, located on Keppel Club with a full-scale 18-holes golf course and training facilities, we aim to broaden the athletic and emotional aspect of the sport, through putting together personalized training sessions where learners can become skilled to play golf in a better form.
10 Bukit Chermin Road, Keppel Club Driving Range, Singapore 109918
---
The SgGolfCoach is the ultimate golfing complex for learning and developing your golf game, whilst having a fun and enjoyable experience.
Mandai Executive Golf Driving Range, Upper Seletar Reservoir, Mandai Road Track 7, Singapore 779384
---
Our coaches, Members of the Singapore Professional Golfer's Association includes winners of several professional golfing tournaments both local and abroad.
Mandai Executive Golf Course, Mandai Road Track 7, Upper Seletar Reservoir, Singapore 779384