Holi is considered as one of the most revered and celebrated festivals of India and it is celebrated in almost every part of the country.
It is also sometimes called as the "festival of love" as on this day people get to unite together forgetting all resentments and all types of bad feeling towards each other. The great Indian festival lasts for a day and a night, which starts in the evening of Purnima or the Full Moon Day in the month of Falgun.
There are many Indian in Singapore who celebrates Holi in the country. Even the non-Indians and residents of Singapore love to be a part of the celebration. 2019 will bring 3 major events in Sentosa & Kembangan.
RANG BARSAY HOLI 2019
THIS COLOUR FESTIVAL 2019 PROMISES YOU A GALA TIME WITH YOUR FRIENDS AND FAMILY.
9th March @ Wavehouse Sentosa
Celebrate the festival of colour and love at Singapore. Enjoy the mesmerizing music from the amazing DJ's on stage while the bursting colours make you feel like you're in a different universe. 6000 pax at Wavehouse Sentosa last year.
The pool turned into a dance floor, the sandpit turned into a dance floor, the cocktail tables had people dancing away, not only do we have water showers for our rain dance but we have showers of champagne and vodka too.
We are expecting same or more this year Event is the biggest spring colour festival on the beaches of Singapore popular among expatriates and locals equally since a decade now!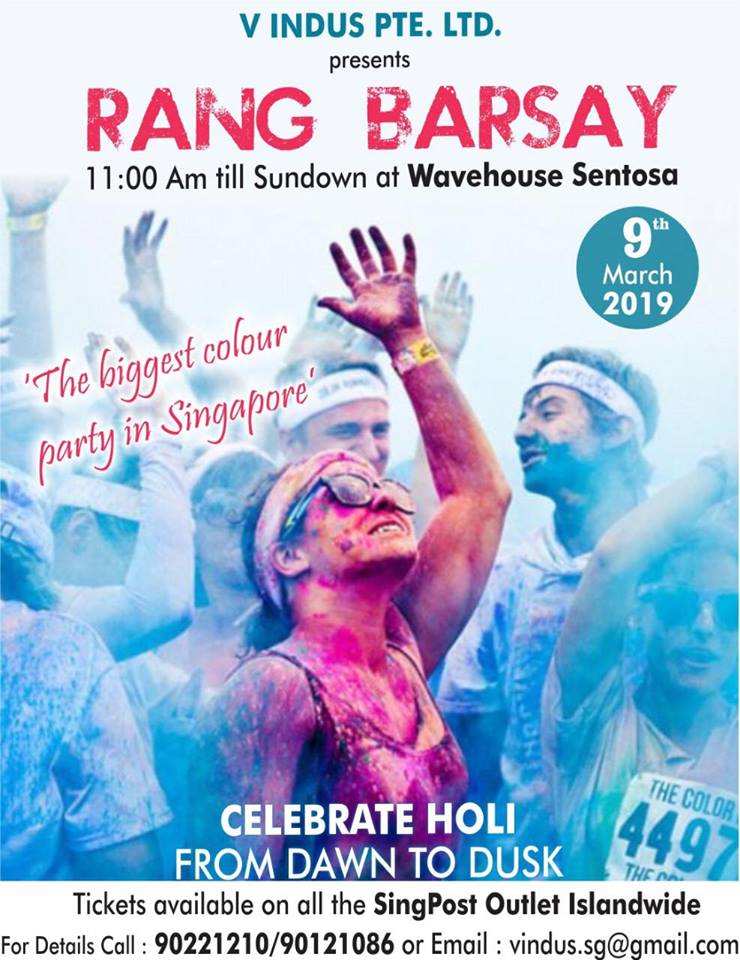 RANG DE HOLI
Rang De holi 2019 is back , a celebration of festival of colours in Singapore.
16th & 23rd Mar 2019 @ Wave House Sentosa.

The most celebrated Indian Festival.of Colors in Singapore Spend a day with friends and family for culturally rich entertainment, Lots of entertaining activities like DJ music street food , drinks and lots of networking and fun.
We welcome you to join us for an Day full of fun and celebrate the festival of colours with us.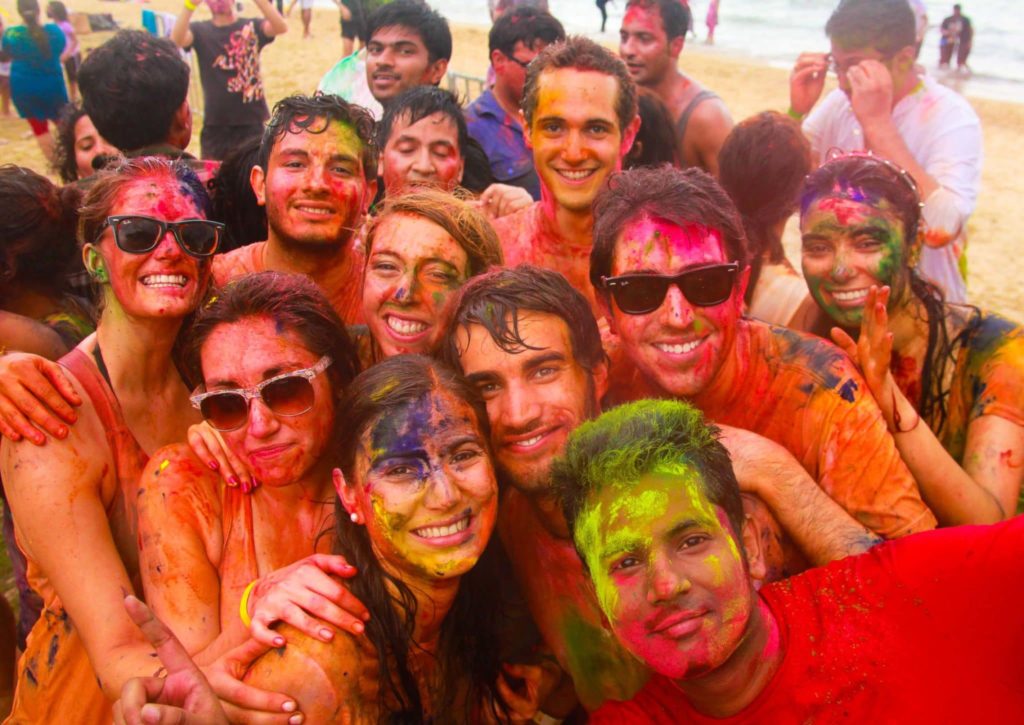 The Event features
• Holi with live DJ Music
• Eco friendly Non Toxic colours
• Delicious Indian food & drinks( To be bought separately)
We have exclusive offers just for you EVERY one gets a pack of Colour.
RANG DE HOLI
Rang De Holi is BACK, Bigger and Better!
Be part of the biggest Holi event in Singapore. Kembangan Holi has everything you could possibly look forward to in celebrating Holi with your family and friends.
23rd March 2019 @ Kampong Kembangan.
Live music by one of best DJ's in Singapore. grooving us with popular classic and modern Bollywood music and abundance of powdered colour, you can rest assured your Holi celebration will be an unforgettable experience.
Furthermore, we bring to you Singapore's leading Bollywood and Bhangra dance groups for blockbuster performances by the hour. Feast on delicious Indian Food prepared by Kebab Factory and come and have a ball at Kembangan Holi.
Get your pictures clicked by exclusive photographer from Glam Creations. An event organised by Bhojpuri Society Singapore and Kembangan – Chai Chee IAEC for more than a decade.