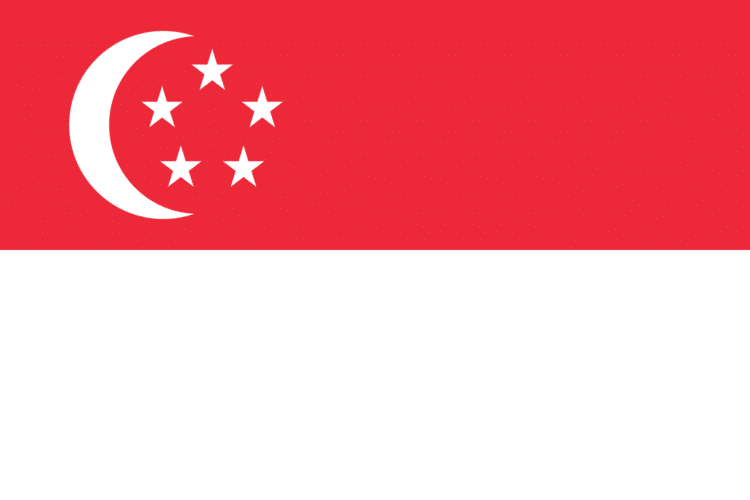 ---
Motto:

Majulah Singapura (Malay)
(English: "Onward, Singapore")
---
Anthem:

Majulah Singapura
(English: "Onward, Singapore")
---
(National Seal of Singapore)


---

Official languages

English | Malay | Mandarin | Tamil
---
Government

Mdm Halimah Yacob

---


Mr Lee Hsien Loong
---
Area

725.7 km2 (280.2 sq mi)
Land 98.57% | Water 1.43%
Coastline 193 km (120 mi)

Singapore is separated from Malaysia by the Straits of Johor and from Indonesia by the Singapore Strait.
---
Population

2019 estimate: 5,703,600
Density 7,804/km 2(20,212.3/sq mi)
---
Currency

Singapore Dollar (SGD | S$)
Coins: $1 | 50 cent | 20 cent | 10 cent | 5 cent | 1 cent
Banknotes: $1 | $2 | $5 | $10 | $50 | $100 | $500 | $1,000 | $10,000
---
Time Zone

UTC+8 (Singapore Standard Time)
---
Date Format

dd/mm/yyyy
---
Mains Electricity

230 V–50 Hz
---
Driving Side

left
---
Calling code

+65
---
Internet TLD

.sg
---
ISO 3166 code

SG
---
63 islands
---
Coordinates

1°17′N 103°50′E
---
Climate

Tropical rainforest climate | 23 to 32 °C (73 to 90 °F)
Monsoon season from November to February
---
Districts of Singapore


Singapore has 28 districts which are divided into 5 regions:
---
Singapore maintains diplomatic relations with 189 countries, although it does not maintain a high commission or embassy in many of those countries. It is a member of :

---

---

---

---

---
---
The Singaporean military, arguably the most technologically advanced in Southeast Asia. The Singapore Armed Forces (SAF) has three services:

SAF Careers Centre, CMPB, 3 Depot Road, Singapore 109680

3 Depot Road, #01-66, Singapore 109680
---
Airports

Public Airports:

Airport Blvd, Singapore 018956

21 Seletar Aerospace Road 1, Singapore 797405

---

Military Air Bases

317 Tanah Merah Coast Rd, Singapore 498820

508 Cranwell Road, Singapore 509863

Paya Lebar, Singapore

Sembawang Road, Singapore 758534

Western Water Catchment, 760 Old Choa Chu Kang Rd, Singapore 699806

---

Military airstrips

Pulau Sudong Airport (island airport)

Pulau Sudong, Singapore

---

Former Airports:

9 Kallang Airport Way, Singapore 397750
---
Seaports:

Changi Ferry Terminal

30 Changi Ferry Rd, Singapore 499675

Changi Point Ferry Terminal

51 Lor Bekukong, Singapura 499172

1 Maritime Square, Singapore 099253

Jurong Fishery Port

Fishery Port Rd, Singapore 619742

Keppel Island

61 Marina Coastal Drive, Singapore 018947

31 Marina Coastal Drive, Singapore 018988

55 Pasir Panjang Rd, Singapore 118810

Between Singapore and Pulau Ubin

1 Maritime Square, Singapore 099253

50 Tanah Merah Ferry Rd, Singapore 498833
---
Ferries to Singapore:

Indo Falcon Shipping & Travel
---
Public Transport

MRT & LRT


As of January 2020, the MRT network encompasses 203 kilometres of route on standard gauge, with 122 stations in operation, spread across six lines set in a circle-radial topolog and with an average daily ridership of 3.384 million in 2019.
The network is expected to double to a total length of almost 400 kilometres by 2040 as a result of ongoing expansion works to its six existing lines and the construction of three new lines.
The network is complemented by a small number of local Light Rail Transit (LRT) networks in the suburban towns of Bukit Panjang, Sengkang, and Punggol that link MRT stations with HDB public housing estates, bringing the combined length of the domestic heavy and light rail network to 231.6 kilometres, with a total of 159 stations in operation.
CHECK OUT A DETAILED LIST INCLUDING ALL MRT & LRT STATIONS
---

Public bus services are operated by four operators under LTA's Bus Contracting Model. LTA issues licenses to both public and private bus operators to operate bus services and regulates bus advertising.
Public buses form a significant part of public transport in Singapore, with over 4.0 million rides taken per day on average as of 2018. There are more than 370 scheduled bus services, operated by SBS Transit, SMRT Buses, Tower Transit Singapore, and Go-Ahead Singapore. The newest bus operator, Go-Ahead Singapore started operation on 4 September 2016. There are also around 5,800 buses currently in operation.
---
Taxis or private hire cars offer all-hours convenience and door-to-door comfort.
In Singapore, you can flag a taxi along the street or at designated taxi stands, or book a ride anytime via mobile apps.

FIND OUT ALL ABOUT GETTING A RIDE, FARES & PAYMENT METHODS, TAXI OPERATORS AND LIST OF APPS ON TAXIS & PRIVATE HIRE IN SINGAPORE
---
Bicycle

Singapore boasts a well-connected network of cycling paths, and you can rent shared bicycles from licensed operators.
Guidelines for cycling in Singapore here.
---
APPS

Use of applications has become mainstream, from calling a taxi, other public transportation apps and apps to find a job.
If you wish to live in Singapore, we recommend that you install this handy application for added convenience and reliability. Find out about the Apps on:
---
Tourism

Find more details about tourism in Singapore