As each permit has its own distinct criteria and restrictions, it is important to learn further about which work permit that you need. In this article, ForBis has gathered all the crucial information that you need to understand about which work passes that you should apply for.
Entrepass is a work pass that can be obtained by individuals from all nationalities who are experienced entrepreneurs, innovators and investors who want to start a business in Singapore. According to the Ministry of Manpower, the business must be "venture-backed or possess innovative technologies". As there are unique requirements to each profile, you can quickly check the table we provide below to see if you are eligible for an Entrepass.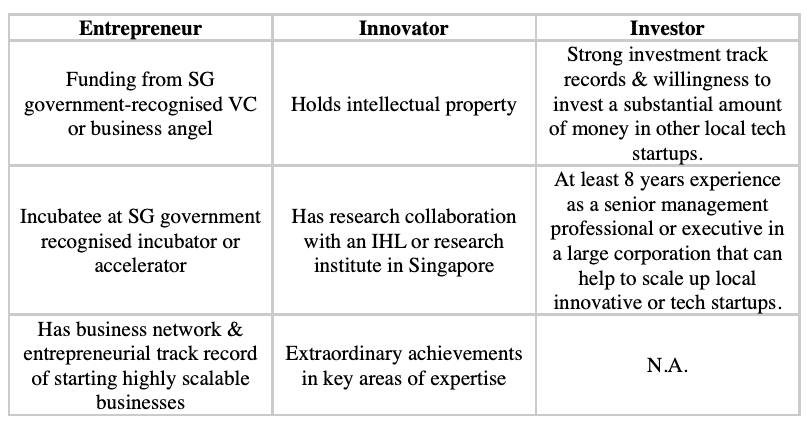 For those who are looking to do a long-term business plan in the nation, one of the most popular routes is to apply for an Employment Pass. People who need an Employment Pass are generally specialists, professionals and executives who need to go back and forth between Singapore and their home country.
For Employment Pass, there are no fixed requirements but typically will require at least a bachelor's from a reputable university. Applicants who are not fresh graduates should have a track record of employment in the relevant field and a competitive salary equivalent to the top 33% of local PMETs of similar fields and ages.
Foreigners acting as a director in their own business can apply for employment passes immediately after incorporation. Having revenue and traction in the business will be advantages for the application.
S-Pass is a work pass that is intended for mid-skilled labour with a minimum earning of $2,500 a month. To apply for an S-Pass, the individual's employer or employment agent must apply on behalf of the applicant. Once obtained, the S-Pass will be valid for up to 2 years and can be renewed with certain conditions. One of the main challenges in obtaining the S-Pass is that there is a limited quota.
The Work Permit is a work pass that allows foreign unskilled labor force from approved countries to pursue employment in Singapore's many sectors such as construction and manufacturing. As the requirements for Work Permit have lower criteria compared to other work passes, this demands certain restrictions for hiring firms such as levies, quotas and health coverage. To apply, you can either appoint a third-party agency or your employer can submit the application. In addition to that, you also need to have access to the Work Permit Online (WPOL) account for the document submission.
Work Passes Details Summary
For those who wish to start a business in Singapore, most people would either apply for an Entrepass or an Employment Pass. To make it easier for you to understand which work passes you will need, we have summarised all of the work passes in the following table.
ForBis is a trusted social enterprise that has extensive experience in assisting companies— both local and foreign—kick-start their business.

Accounting | Audit | Business Address | Company Secretary | Dependent Pass | Employment Pass | Immigration | IncorporationTax | Nominee Director | Payroll | Permanent Residency | Recruitment